Company Introduction

"Nishijima meat corporation began over 80 years ago near Araiyakushi temple in Nakano, Tokyo.
We select Kuroge Wagu including Matsusaka beef, Omi beef, Hitachi beef and Miyuki beef from markets at least twice a week, which enables us to offer premium A5 grade Japanese beef "Kuroge Wagyu" with reasonable prices.
We have built a reputation on high-quality selection including beef, pork, chicken, horse and ram. Especially our various beef breeds offer you wide range of needs – from high brand Kuroge Wagu (like Matsusaka beef, Omi beef) to imported beef. Come and take a look at deli corner as well, where you can find one of our top sale item – homemade minched beef cutlet ""Menchi Katsu"". "
One cow procurement & processing scheme "Ittou Gai / Ittou Uri"
Nishijima meat corporation implements integrated purchasing-to-processing system. We select and procure one whole cow and process all the parts within our facility. This allows us to fulfill all our customer needs, together with shorter supply chain that gives cost advantage. Moreover as all the process is done by our facility, we are confident on what we offer!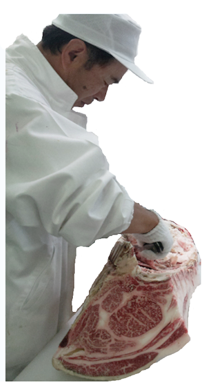 Knowhow Based On Our Skill Over 80 Years
Selection of meat, cutting skills, quality control,,, we have expertise in this business cultivated by several decades of experience that we believe to be the best.
Timing for good taste
"Good Timing to serve" is also one of important factors for our customers, and this is why we offer "Aging beef". We keep in our refrigeration facility where the time is controlled based on our original standard. Each mouthful will be of the exceptional quality our customers have come to expect.
Good Quality & Good Price
It may sound cliche, but we set much value on "Good Quality & Good Price" by the founder's precept. Our commitment, is to offer you the excellent products without compromising the quality.
SHOP DETAILS
TEL

03−3385−0298

(Japanese only)

FAX

03−3386−4129

(English and Japanese)

OPENING HOURS

10:00〜19:00

CLOSED

Fridays except the end of the year, New year holidays

COMPANY

Nishijima meat corporation

SHOP LOCATION

5-16-2, Arai Nakano-ku, Tokyo, Japan Postcode:165-0026

MAP

REMARKS

English-speaking staff available
PART-TIME STAFF WANTED
Please feel free to contact us
TEL:03−3385−0298

(Japanese only)
(Japanese only)